| | |
| --- | --- |
| Categories | CNC Pipe Threading Lathe |
| Album | View larger image |
| Brand | sanzheng cnc lathe machine |
| Model | QK1335 |
| Power(W): | 22KW |
| Certification: | CE & ISO |
| Max. swing over carriage: | 610mm |
| Max. workpiece length: | 3000mm |
| Hole through spindle: | 350mm |
| QVoltage: | 380V50HZ |
| Weight: | 3000kg |
| Max. swing over bed: | 1000mm |
| Max. processing pipe diameter: | 340mm |
| Max. Swing Diameter: | 1000mm |
| FOB port | dalian |
| Terms of Payment | L/C, T/T |
| Update Time | 2019-02-22 |
Detail Information
Hot sale hydraulic roll threading machine,QK1335Lathe Machine for Repair of Pipe Threads on Rotary Shouldered Connections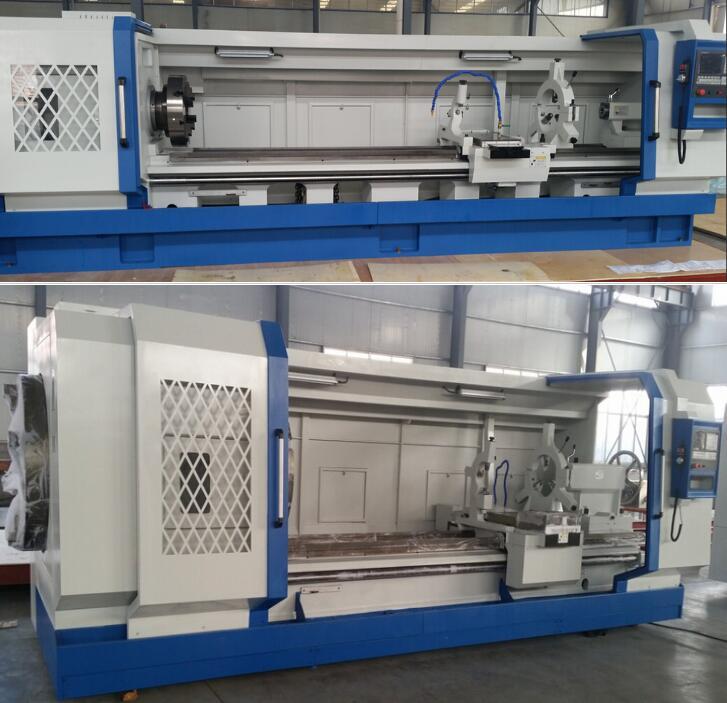 Standard CNC system:Choose to configure the CNC system: Siemens, Fanuco,GSK
Tool holder form
Standard: 4-position electric turret;Select the configuration: 2/6/8/12 station electric knife holder
Chuck model
Standard: before and after the double three-jaw chuck
Select the configuration: before and after the double four-jaw chuck
Vertical four-position electric turret;With tailstock;Automatic lubrication system;Turning cooling system.Independent spindle, servo drives, variable speed.
Main Characters:
Hollow spindle bore design allows processing extra-long work-piece
Double chuck equipment realizing better clamping of work-piece
Taper guide bar installed ensures taper thread processing ability
Feature
1. We set up TRB (tapered rolling bearings) on this lathe to increase the rigidity of the spindle. 
2. Big spindle bore and double chuck allows clamp and process big diameter pipes;The spindle bore is very large and set up double chucks both front and back and you can choose electric chucks as you like.
3. Ultrasonic frequency quenched guide-ways are hard enough for good wear-resistance;Carriage and guide way contact surface pasted with Turcite B to maintain long-term accuracy,The slide rail f saddle is treated by wear-resisting layer coated, to avoid the crawling.
4. The slide rail f saddle is treated by wear-resisting layer coated, to avoid the crawling.
5. There are two types of speed change: Manual and step less.
6. Set up self lubrication system, and easy to maintain.
7.Integral machine bed adopts high strength iron to relize high rigidity and precision;
Application:
QK series CNC  Pipe threading lathe machine is mainly designed to process all kinds of  internal and external pipe threads including metric,inch,module,DP and taper threads,as well as having all the common functions of normal CNC lathe such as processing the inner bore and end face of shafts and disks.
This series lathe machine is widely used in industries including petroleum exploiting,coal and minerals mining,chemical piping and geological prospecting,it is high-efficiency equipment in processing and repairing drilling pipe,drilling rod,thread coupling and so on.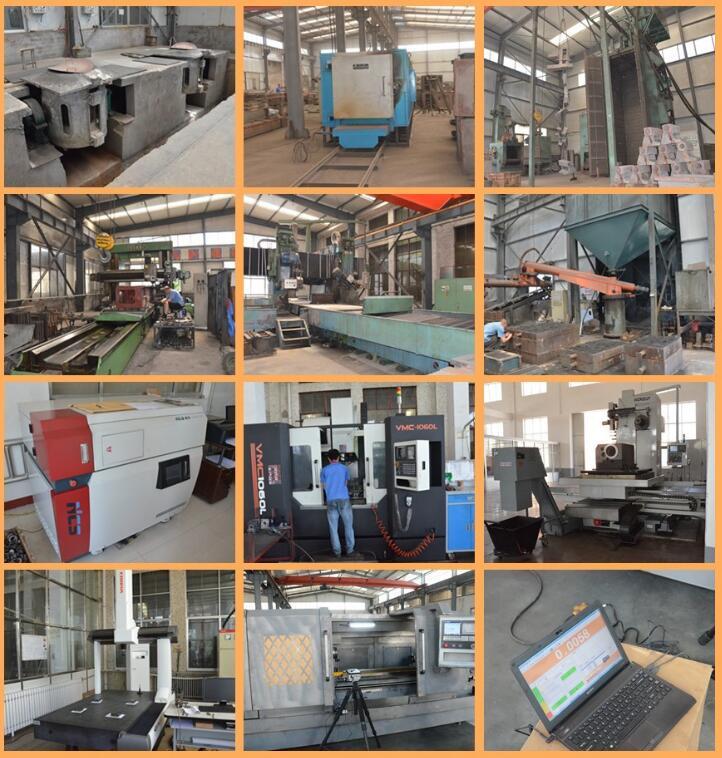 Application:
The application fields of Pipe Thread Lathe machine are the Processing and repairs of drill pipe, drill collar, joint, kelly bar and sleeve of Oil sector, Metallurgic Industry, Geological Prospecting, Chemical Industry & Hydropower.
Advantage:
We use electric furnace smelting, resin sand molding casting technology,avoid sand holes, stoma casting internal defect effectively, all the accessories are assayed by imported spectrum analyzer, it assures the quality of the casting . The casting had been through second thermal aging treatment with good stability.
The bed of floor type is the whole structure. The rigidity and width of guide way on the bed of lathe is good enough. The guide way is through high-frequency quenching, the slide guide way joint SD compound soft belt. to make more wear-resisting and lower friction factor. The lead screw is the whole structure (not butt). The saddle is wider and thicker than before, the machine is running more stable. And the cutting ability is better.
The 3 boxes of lathe were processed by Taiwan's CNC boring and milling machine center. The other tools are processed by CNC lathe and machine center to ensure the precision of the box and tools.
First step of the accuracy test of the equipment is testing the repeat accuracy of X and Y axis with Renishaw laser interometer imported from Britain. After that, inspecting and accepting the whole equipment based on the enterprise standards, guarantee the accuracy of the machine tool.
cnc bolt making machine steel nut making machine induction hardening machine
cnc rivet making machine scold heading machine cotton wool making machine
cnc induction heating machine steel ball making machine used press machine
China making machine bolts China steel ball making machine China ball bearing making machine
China rivet making machines China cotton wool making machine China screw making machine prices
China steel nut making machine China nut making machine in india China automatic nut making machine.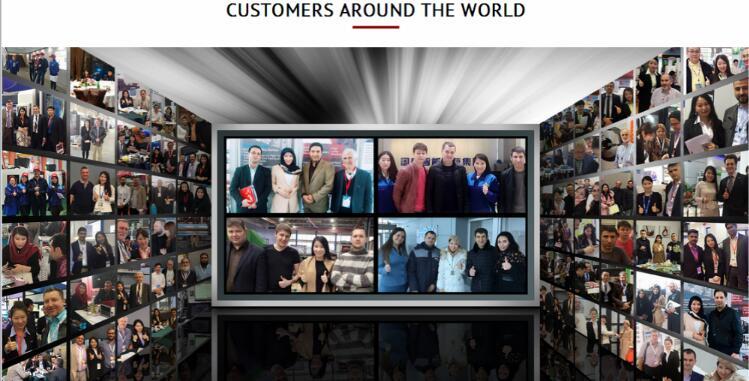 Model and specifications

QK1313

QK1319

QK1322

QK1327

QK1335

QK1343

Guideway width

490 mm

705mm

755mm

Max.swing over bed

630mm

1000mm

1000mm

Max.swing over carriage

350mm

680mm

610mm

Hole through spindle

130 mm

200mm

225mm

280mm

350mm

440mm

Max.processing Pipe diameter

126 mm

196 mm

219mm

270mm

340mm

430mm

Max.workpiece length

1500/3000mm

The actual machining length

1350/2850mm

Number of spindle speed changes

18 steps

12 steps

12 steps

12 steps

12 steps

12 steps

Range of spindle speed changes

12~640 r/min

24~300 r/min

24~300 r/min

24~300 r/min

24~350 r/min

24~350 r/min

Tool post style

Vertical 4 Stations

Knife rest translocation time

3s

Repeated positioning accuracy

±0.002

Processing workpiece precision

IT7

Workpiece surface roughness

Ra1.6

Bed quenching hardness

HRC52

Power of main motor

7.5/11kw

18.5kw

22kw

Chuck

400   3-jaw

500   3-jaw

500  3-jaw

800   4-jaw

1000  4-jaw
Please send your message to us
*We will reply your inquiry to this Email as soon as we see it
Please send your message to us
*We will reply your inquiry to this Email as soon as we see it

Subscribe to:
sign up for the latest catalogue, new design and promotion