Possible Dangers Of Pipe Threading Lathes And Ways To Avoid Them
There are all kinds of unexpected dangers when operating a pipe threading lathe.A lot of accidents can be avoided if we are careful in our operations.Below are the risks that may occur in pipe threading lathes and how to avoid them.
一, a splash of iron filings causes accidental injury.The way to avoid this danger is to wear goggles at work.
二, iron filings constantly cause accidental injury.In order to avoid this phenomenon need early operation of pipe thread lathe to do these work: grinding out a reasonable chip Angle;Do not wear gloves when working.When cleaning iron shavings, stop to clean with hook.
三, the workpiece protrudes from the spindle too long, causing accidental injury.So the workpiece is 300mm longer than the spindle, set the baffle or support with a bracket.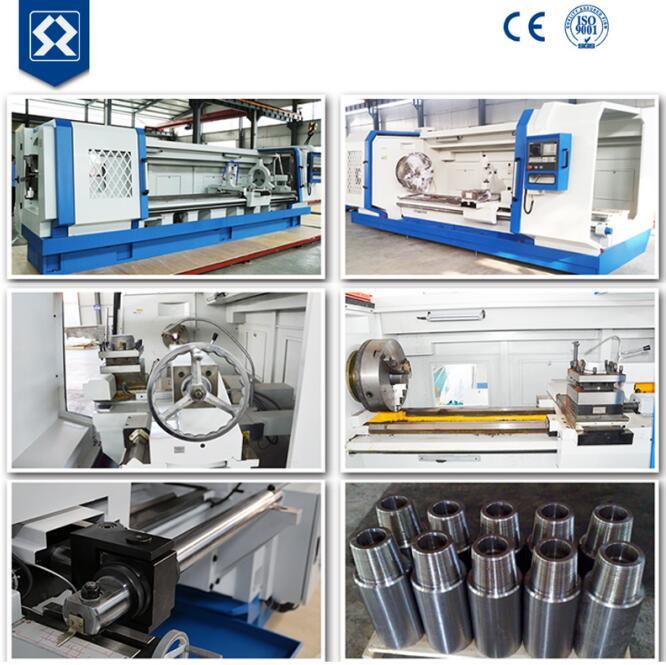 SANZHENG Pipe threading lathe Eight advantages :
1. We research and develop Pipe threading lathe for more than 50 years, and our company was restructured in the year 2002 . More than 200 staff ,9 professional engineers ,cover an area of 120,000 square meters.
2.CNC pipe threading lathe is a special model of CNC turning lathe ,mainly used in oil and gas field, machinery manufacturing, geological exploration, thread repair function and so on.
3. Customized service, we can make the pipe threading lathe according to clients' requirements.
4. We have our own casting workshop, guarantee good quality of the machine.
5. A big production capacity, always have machines in store, though so many orders we can also guarantee delivery time.
6. Certificate of CE and ISO
7. We have exported to Dubai , Malaysia,the USA ,Russia, Iran etc.
8. We make OEM for Knuth Germany about 8 year ,no quality problem , the orders are added every year.
What is Sanzheng doing?
SANZHENG Pipe threading lathe factory advantage
Shandong SanZheng Machine Tool CO., LTD., a large-scale professional lathe manufacturer, is a modern enterprise which covers the area of design, research, production, and sale and after-sale service. It has more than 20 years experience in manufacturing conventional lathe, pipe threading lathe and CNC lathe. ShanZheng is an enterprise which owns technology casting, forging, machining, assembly, heat treatment. The CAD and ERP are widely used in the Enterprise informatization management and the development of the new product.
ShanZheng has passed the ISO9001 quality management system certification, CE certification and obtained the right of import and export. It has been rated as the "top enterprise ", "trustworthiness enterprise", "advanced enterprises for independent innovation" by the China machine tool industry for many years.
The products are not just sold in China but also exported to Germany, Australia, Saudi Arabia, Holland, Chile, Singapore and other countries. We are the largest production suppliers of pipe threading lathe in Germany. High-quality product and timely after-sales service help us won the unanimous trust and favorable comment from both the domestic and foreign customers!
Sanzheng has many years of professional experience in the production of pipe threading lathes, and special lathes. The company has various types of casting, forging, machining, assembly, heat treatment and other equipment, It is currently the largest, most professional pipe thread lathe professional manufacturer.
Sanzheng has been rated as "the top 100 of China machine tool industry with meticulous efforts to create a brand", and others honor over many years. Products are sold throughout the country, meanwhile we are the only supplier designated by a famous German company for pipe threading lathe.
Please send your message to us

Subscribe to:
sign up for the latest catalogue, new design and promotion